Published six times a year, this colorful magazine is filled with articles that can uplift you and show you how to live God's matchless Word.
Thoughtfully written by faithful men and women who carefully research and teach the Word, these articles show how to study the Word of God and how to apply it practically.
The Way Magazine is a beautifully illustrated Biblical storehouse—as the cover states, "The Magazine of Power for Abundant Living"—with God's love and truth poured into every page.
More about the Magazine
Here's what some have said about The Way Magazine:
Each issue gives me something to share with my fellow marines who are interested in the Word. Thanks for all of the hard work and love that is put into The Way Magazine. God's Word is available anywhere to those who want to hear it.
All five of us in our family have our own subscription. The Way Magazine helps to direct the children when it is their turn to teach God's Word at our Sunday evening family teaching times. Our children even share at times from The Way Magazine in our home fellowship.
I love the diversity in The Way Magazine; the diversity of its topics and the variety of authors show the rich depth of truth abounding in our household. It is a great example of how the one Body of Christ gets its strength from all the members working together. The content is always fresh and uplifiting, inspiring greater respect for the Word of Life and greater love for our heavenly Father, the Author of life.
It is easy to see from the content why The Way Magazine is such a blessing to believers worldwide:
Feature Articles
The Biblical feature articles are carefully researched in the Word of God and written with love, thought, and care. Each is crafted to help anyone who hungers to know more about God and to do His Word—regardless of age or experience.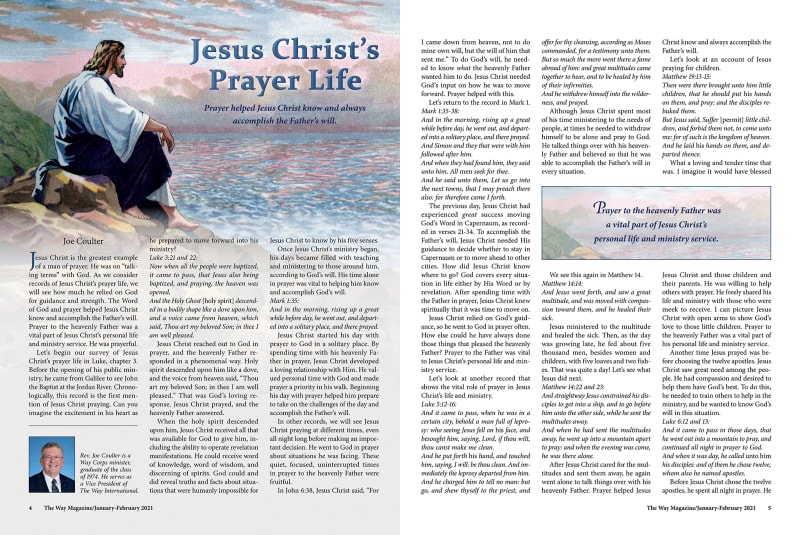 To enjoy reading the Bible, we must learn to understand it. We can gain more skill and confidence as workmen of God's Word and tap into the power of God in a greater way by learning how to apply the fundamental keys to Biblical research. The feature articles in The Way Magazine present Biblical keys to the Word's interpretation in a way that is clear and easy to understand.
Interactive Activities
A variety of activities relating to the articles in each issue are presented to help readers grow in their understanding and application of God's Word.
Sunday Service Highlights
Every person can enjoy reading highlights of the Sunday Teaching Service held weekly at The Way International Headquarters.
Manners and Customs of the Bible
Manners and customs of the Eastern culture is a rich and exciting field of Biblical study. Since the Bible is an Eastern book, many manners and customs are not clear to the Western mind. Studying these manners and customs helps the reader to gain an accurate understanding of many otherwise difficult scriptures.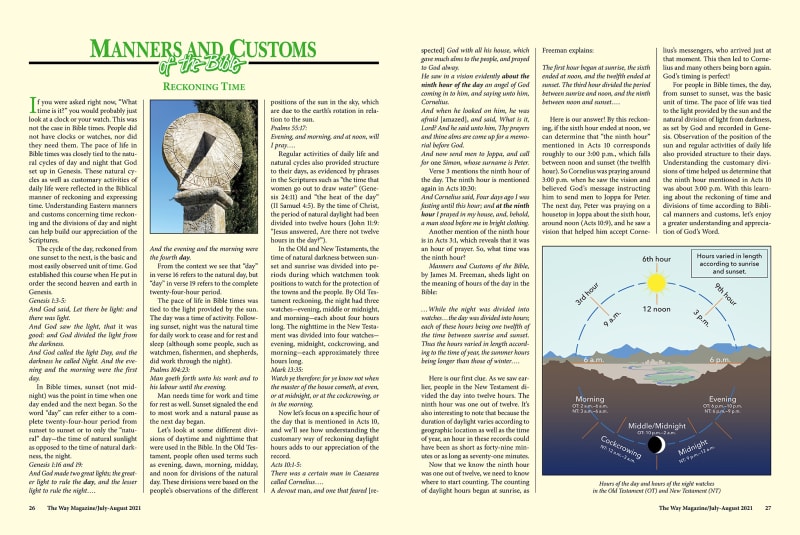 Word Over the World Report
Each issue contains illuminating reports about the work of The Way Ministry worldwide, such as our Biblical research classes, The Way Corps leadership training, and more!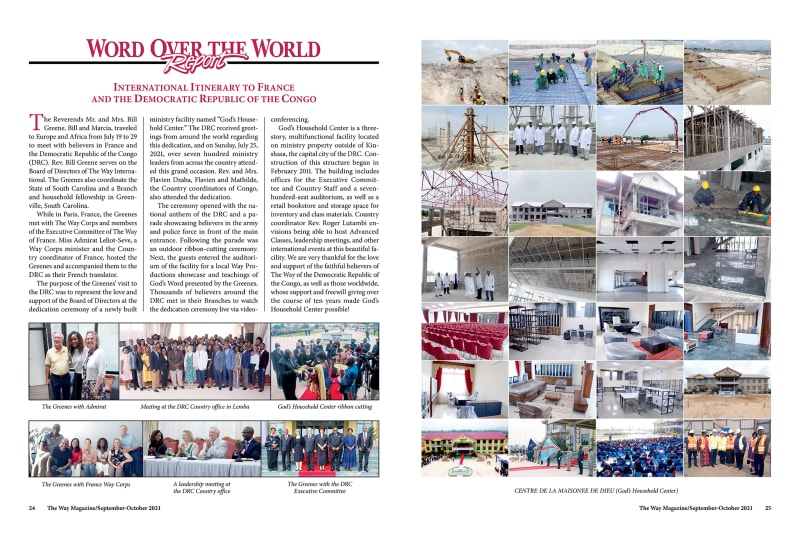 Camp Gunnison
The Way Magazine often includes information about exciting events at Camp Gunnison—The Way Family Ranch, in Gunnison Colorado. Here, the Rocky Mountains provide a breathtaking backdrop for learning more of God's Word and fellowshipping with believers from all over the world. Camp Gunnison hosts classes, camps, getaways, and a variety of other events. Visit our Camp Gunnison page and check out a list of current offerings.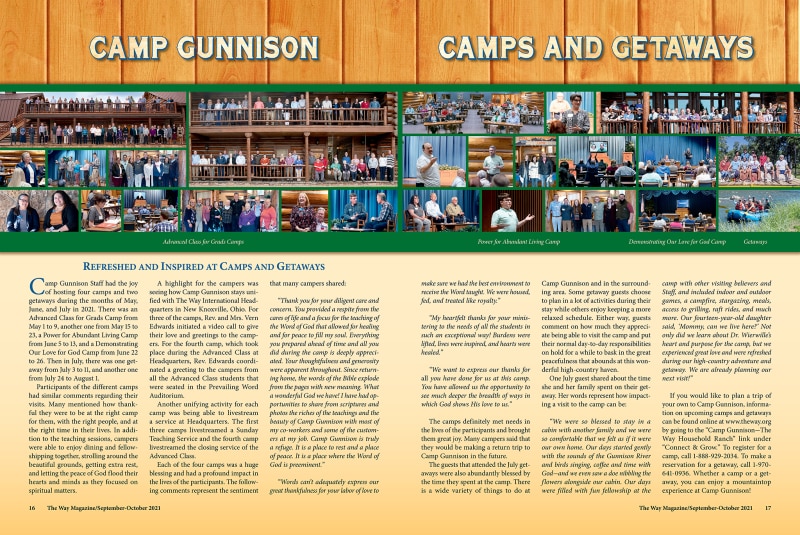 From the Heart: Letters
Our readers have much to be thankful for, and these blessed believers love to express it—from their hearts.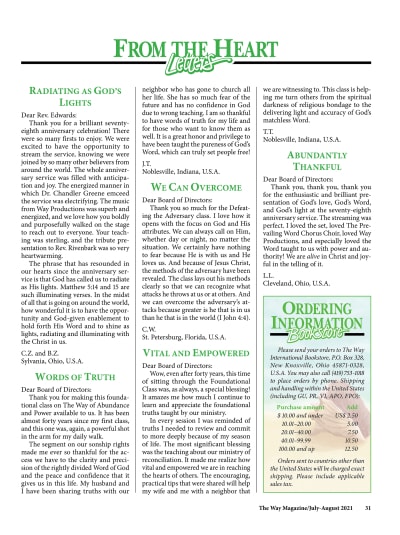 You can receive these and many other spiritual riches in your mailbox or on your computer or mobile device six times a year by subscribing or renewing your subscription today! This will also give you access to the archives in the digital edition, where you can search previous magazine issues by key words, phrases, and verses. What an aid to your personal study—right at your fingertips!
You may also purchase gift subscriptions for friends and loved ones—what finer gift could you give than the words of life? You may have a gift card sent on your behalf.
Check out thewaymagazine.com to explore excerpts from previous issues of The Way Magazine.
Print/Digital Edition Subscription Rates
(Rates are for six issues per year.)
United States
48 states (excludes Alaska and Hawaii)
US$20
APO, FPO, Canada, México, Alaska, Hawaii, and U.S. Territories with U.S. Zip Codes
US$25
Other Countries
US$30
Individual Print-Edition Issue
US$5
(A limited number of back issues are also available for US$1.)
CD/Digital Edition Rates for Visually Impaired Subscribers
(Rates are for six issues per year and exclude the print edition.)
United States Addresses
US$18
Canada and México
US$20
All Others
US$21
We are thankful to continue serving God's matchless Word in The Way Magazine, as we have since 1952.