Published six times a year, this colorful magazine is filled with articles that can uplift you and show you how to live God's matchless Word.
Thoughtfully written by faithful men and women who carefully research and teach the Word, these articles show how to study the Word of God and how to apply it practically.
The Way Magazine is a beautifully illustrated Biblical storehouse—as the cover states, "The Magazine of Power for Abundant Living"—with God's love and truth poured into every page.
More about the Magazine
Here's what some have said about The Way Magazine:
Okay, it's official. The Way Magazine is better than the best it's ever been. It's a beautifully designed and illustrated magazine. It's a banquet of truth with research, history, manners and customs, news of where our ministry's going, and more! This is the magazine I've craved for forty-nine years!
We love the new layout of The Way Magazine. The articles flow together so well. There seems to be more artwork and photos throughout the magazine which adds so much more interest. We especially like how they have been dropped in and interwoven throughout the text, even crossing one page over to the next. Very nicely done!
We love the new magazine layout—very inviting, modern, light, easy to read and follow, and filled with that Word and content that we love. We are very proud to display and share it with everyone who loves God and His Word!
It is easy to see from the content why The Way Magazine is such a blessing to believers worldwide:
Feature Articles
The Biblical feature articles are carefully researched in the Word of God and written with love, thought, and care. Each is crafted to help anyone who hungers to know more about God and to do His Word—regardless of age or experience.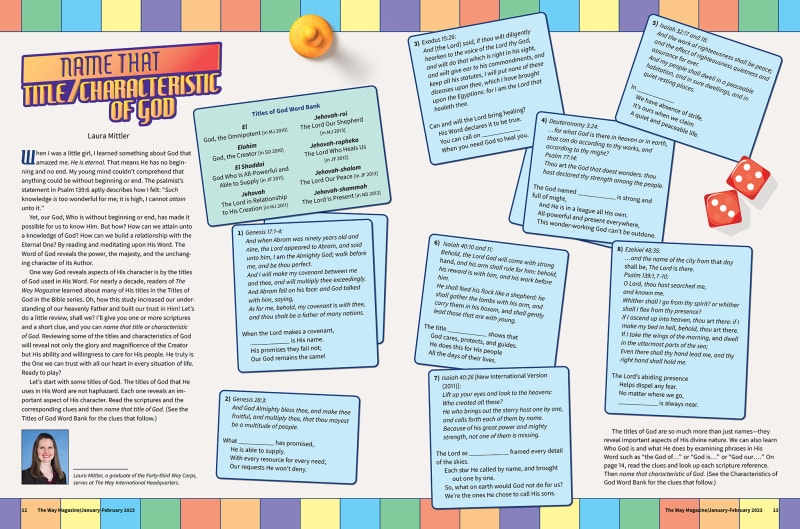 To enjoy reading the Bible, we must learn to understand it. We can gain more skill and confidence as workmen of God's Word and tap into the power of God in a greater way by learning how to apply the fundamental keys to Biblical research. The feature articles in The Way Magazine present Biblical keys to the Word's interpretation in a way that is clear and easy to understand.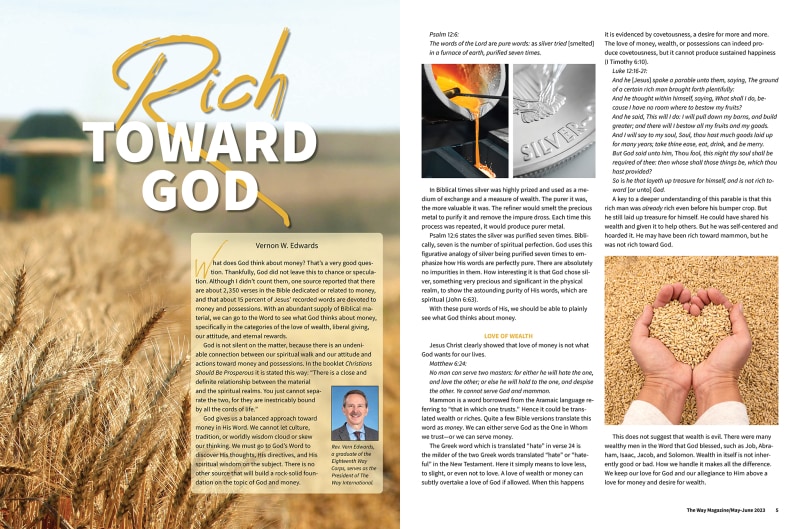 Manners and Customs of the Bible
Manners and customs of the Eastern culture is a rich and exciting field of Biblical study. Since the Bible is an Eastern book, many manners and customs are not clear to the Western mind. Studying these manners and customs helps the reader gain an accurate understanding of many otherwise difficult scriptures.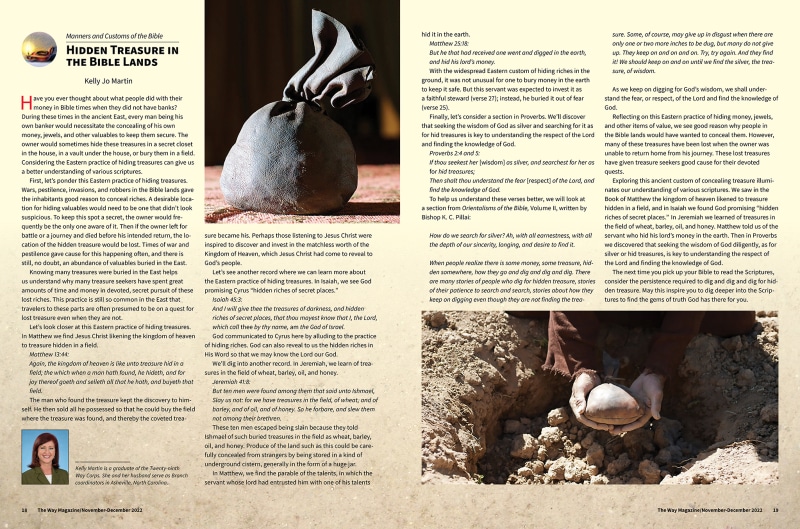 Word Over the World Report
Each issue contains illuminating reports about the work of The Way Ministry worldwide, such as our Biblical research classes, The Way Corps leadership training, and more!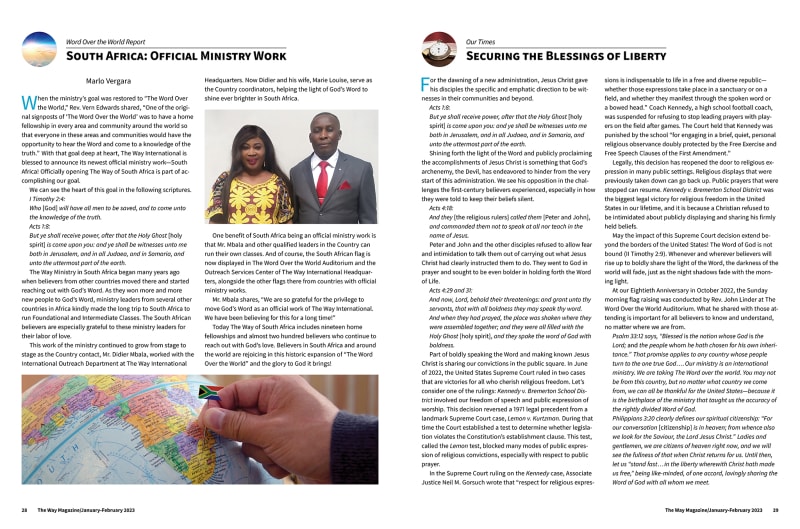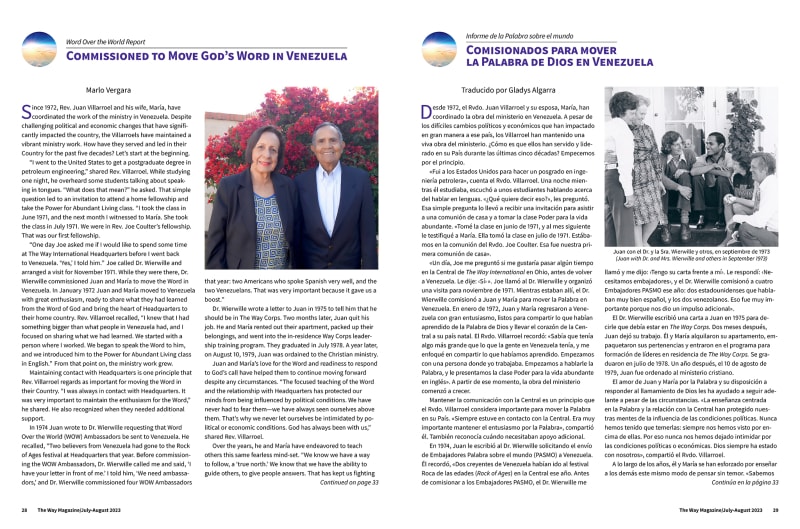 Camp Gunnison
The Way Magazine often includes information about exciting events at Camp Gunnison—The Way Family Ranch in Gunnison, Colorado. Here, the Rocky Mountains provide a breathtaking backdrop for learning more of God's Word and fellowshipping with believers from all over the world. Camp Gunnison hosts classes, camps, and a variety of other events. Visit our Camp Gunnison page and check out a list of current offerings.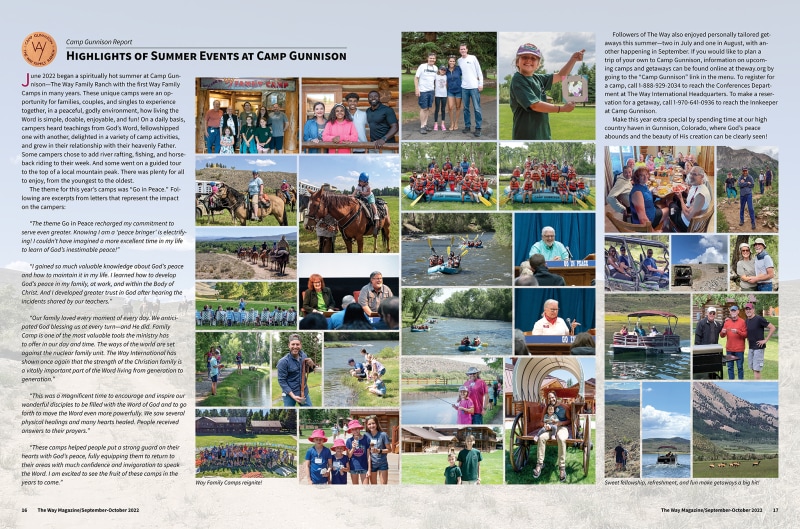 Workmen of the Word
In recent issues, this Biblical research series has presented in-depth insight into the meaning of certain words in scriptures that need further explanation to be clearly understood.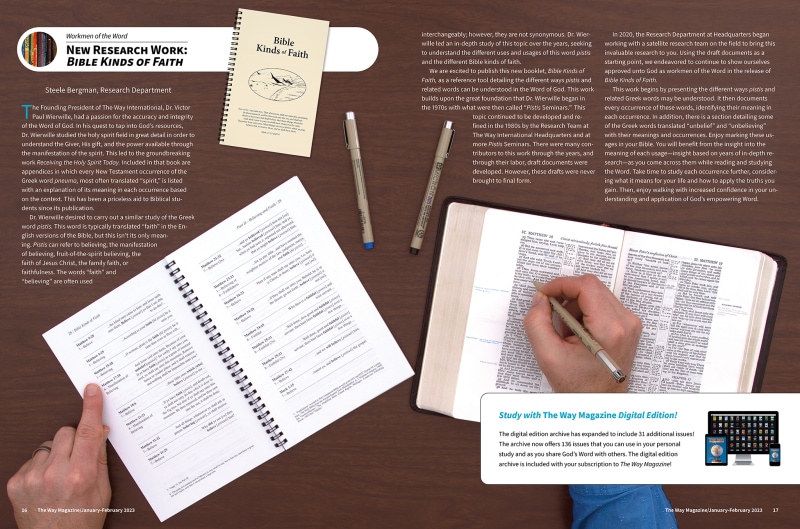 Old Testament History
In this series, we are opening up the Old Testament books from the shelves of God's divine library to discover what learning we can gain from the precious truths they hold. Understanding the big picture of the Old Testament is essential to understanding the context of many Old Testament records. That is our purpose in this series—to gain a basic overview of the entire Old Testament. Then, when readers turn to Exodus, or Judges, or Ruth, or other parts of the Old Testament, they will have a better understanding of where the record they're reading fits within the scope of God's narrative.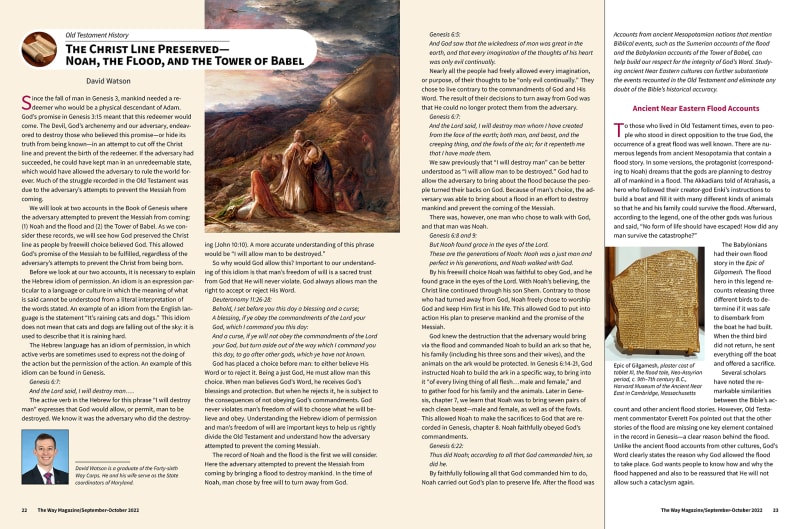 You can receive these and many other spiritual riches in your mailbox or on your computer or mobile device six times a year by subscribing or renewing your subscription today! This will also give you access to the archives in the digital edition, where you can search previous magazine issues by key words, phrases, and verses. What an aid to your personal study—right at your fingertips!
You may also purchase gift subscriptions for friends and loved ones—what better gift could you give than the words of life? You may have a gift card sent on your behalf.
Check out thewaymagazine.com to explore excerpts from previous issues of The Way Magazine.
Print/Digital Edition Subscription Rates
(Rates are for six issues per year.)
United States
48 states (excludes Alaska and Hawaii)
US$20
APO, FPO, Canada, México, Alaska, Hawaii, and U.S. Territories with U.S. Zip Codes
US$25
Other Countries
US$30
Individual Print-Edition Issue
US$5
(A limited number of back issues are also available for US$1.)
CD/Email Edition Rates for Visually Impaired Subscribers
(Rates are for six issues per year and exclude the print edition.)
United States Addresses
US$18
Canada and México
US$20
All Others
US$21
Way Magazine Indexes
We are thankful to continue serving God's matchless Word in The Way Magazine, as we have since 1952.