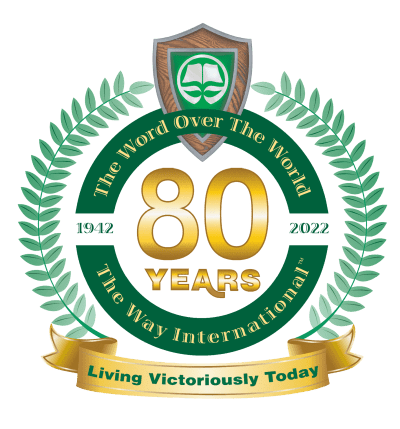 Living Victoriously Today
The Way International™
Celebrating 80 Years
of moving
God's Word Over the World
See update below, or use these links to skip down to a specific day.
Updated September 19
Here are a few event updates to help you plan your trip to Headquarters:
Please make sure to bring the event tickets that were sent to you for the Saturday concert and/or the anniversary Sunday Teaching Service. Please also bring the food tickets you received for any picnic lunches you purchased.


If you are attending Saturday's picnic lunch, please bring your own lawn chair or blanket if you can.


Saturday's sharing by the Directors will now take place around the Gazebo. If the weather is inclement, it will take place in the pavilion tents.


Our overflow seating location for the weekend is the Outreach Services Center (OSC) Dining Room.


Please refer to this parking map to know where to park during the event. Each parking location is color coded to match the color of your event tickets. You may also refer to this locations map for an overview of our grounds.


Seating in the auditorium for the weekend is full. If you have tickets to sit in the auditorium and bring additional guests with you who do not have tickets, please plan on sitting with them in overflow seating in the OSC Dining Room.


If you signed up for live translations during the event, please make sure to pick up your translations equipment on Saturday morning at the pavilion tents or Sunday morning before the service in the auditorium second-floor west concession stand.


One-year-olds need to be accompanied by their mother in Children's Fellowship for the Sunday Teaching Service.
Be sure to check out our updated Eightieth Anniversary program below!
Saturday, October 1
10:00 a.m.
The House of His Healing Presence is located in The Way Woods and is available for you to visit any time of the day. It will close at 3:00 p.m. on Sunday.
12:00 noon
Picnic lunch at the Gazebo. Meals are available to pre-purchase, purchase on-site, or bring your own.
1:30 p.m.
Directors share at the Gazebo.
After sharing–

3:30 p.m.

Bookstore open in retail locations and the second floor of The Word Over the World Auditorium.
Historical and informational displays are available to view in the pavilion tent area.
6:00 p.m.–6:45 p.m.
Bookstore open in retail locations and the second floor of the auditorium.
6:15 p.m.
Doors to The Word Over the World Auditorium Teaching Center open.
7:00 p.m.
Way Productions Concert in The Teaching Center
After the concert
Enjoy fellowship at the Gazebo and Garden of Living Waters, or take time to pray in the House of His Healing Presence.
Bookstore open in retail locations and on the second floor of the auditorium.
Sunday, October 2
8:00 a.m.
Flag Raising at The Word Over the World Auditorium parking lot. Complimentary refreshments available afterward in the pavilion tents.
8:00 a.m.–10:30 a.m.
Historical display in the pavilion tent area
9:00 a.m.–10:30 a.m.
Bookstore open in retail locations and on the second floor of the auditorium.
10:00 a.m.
Children's Fellowship Registration and Mothers' Room open in the Outreach Services Center.
10:15 a.m.
Doors to The Word Over the World Auditorium Teaching Center open.
10:30 a.m.
Live prelude to the Sunday Teaching Service begins.
11:00 a.m.
80th Anniversary Sunday Teaching Service
After the service
80th Anniversary Reception and Snack Shop in the pavilion tents until 3:00 p.m.
Bookstore open at retail locations and on the second floor of the auditorium.
Historical display in the pavilion tent area
Living Victoriously Today