What Is The Way Corps?
"It Is Written." This is the motto of The Way Corps and the basis of The Way Corps training—a dynamic and diversified leadership program that prepares men and women to serve as able ministers of the Lord Jesus Christ for a lifetime. "It Is Written" means that the Bible is not just something to be read but something to be lived. Through in-depth study and practical application, The Way Corps training helps students bring the pages of God's Word to life, producing able ministers—confident and committed leaders who are ready to serve the greatness of God's Word to His people.
Enjoy this video of The Way Corps coordinator explaining the heart of The Way Corps training program.
The Way Corps training consists of a comprehensive curriculum and hands-on training activities, designed to produce competent, well-rounded ministers. Part of the training includes a unique outdoor training program called LEAD. To learn more about this aspect of the training, please visit our LEAD page.
Who Is The Way Corps For?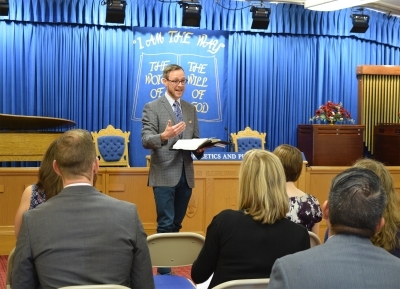 The Way Corps is for those who have a passionate desire to commit their lives to God, to His Word, and to the ministry that taught them the Word. At the heart of an individual's decision to be Way Corps is the realization that nothing is more satisfying and truly fulfilling than selfless service to God and His people. The Way Corps is for Advanced Class graduates who want to make God's will the standard of their thoughts, words, and actions. It is for those with natural leadership ability, a hunger for spiritual truths, and the ability to comprehend. It is for those who are called of God. Answering God's call to be Way Corps is a response out of love and thankfulness for His matchless Word and bountiful goodness.
I Timothy 3:1:
This is a true saying, If a man desire the office of a bishop, he desireth a good work.
Romans 12:1:
I beseech you therefore, brethren, by the mercies of God, that ye present your bodies a living sacrifice, holy, acceptable unto God, which is your reasonable service.
The following video provides a further explanation of who The Way Corps is for and why someone answers God's call to be Corps.
The Life of a Way Corps Minister
Upon graduation, Way Corps ministers can expect their lives to be full and rewarding. They can be confident that God will continue to enrich their lives and supply their every need as they believe, because God's Word works every time it is believed. When students complete their in-residence training, their role is a big one—in the vanguard and as stewards of the Mystery, Christ in you, the hope of glory. The Way Corps is a sacred trust, given by God's mercy and grace, to care for His people with His Word. With "It Is Written" engraved upon their hearts, The Way Corps carry out their lifetime commitment one day at a time with perseverance, faithfulness, and dedication.
Enjoy the following videos showing the blessings that Edgar and Sarah, Way Corps ministers and graduates of the class of 2020, have received as a result of answering God's call to serve.
What is your response to all God has given you? If it's to serve as a Way Corps minister, God will establish your plans when you make a commitment to Him. For more information about The Way Corps training, contact your local leadership.