Nuestro próximo servicio: 10 de diciembre de 2023
La verdad nos hace libres
Sra. Sarah Jean Edsall
Need a subscription? See our subscription information.
About the Sunday Teaching Service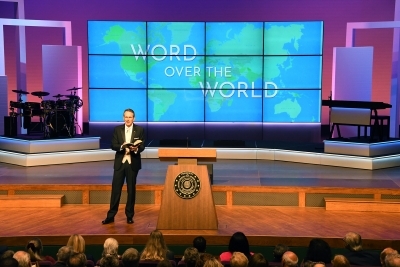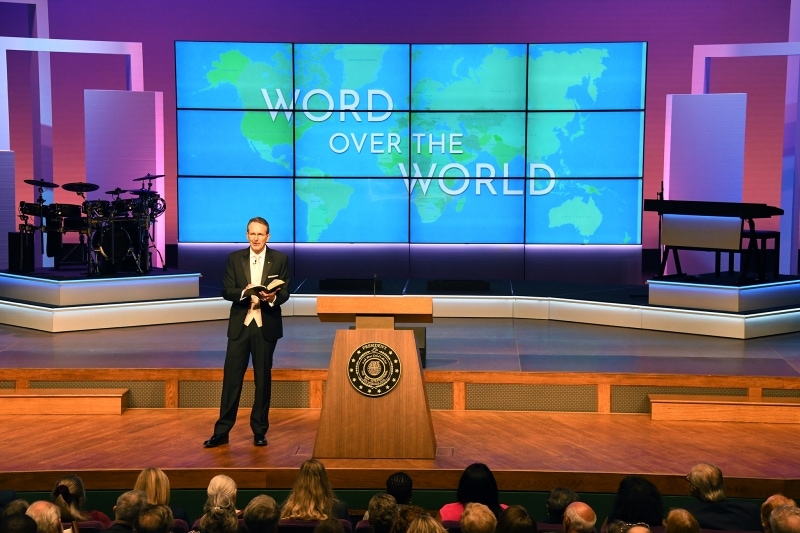 On Sunday mornings, the accuracy and integrity of God's Word reaches out to believers around the world. Prayer, musical performances, and singing build to the highlight of the service—the teaching of the Word. Each service held at our International Headquarters is designed to build enthusiastic believing in God's magnificent Word. Whether one attends the service live, watches it via streaming, dials in from a telephone location in their area, or listens to a recording later, the dynamic teaching helps those seeking build a firm Biblical foundation.
It is truly an unparalleled experience being in the audience, smiling and feeling as if everyone on the stage can see you and they are all smiling back at you. The music, the interaction between stage and audience, the Word being shared from fully dedicated hearts of committed believers, God receiving the glory in everything—there is no price tag big enough to cover it.
I would like to thank everyone at The Way International with my whole heart for the labor that is put forth in making the truth available to me via The Way Magazine and my Sunday Teaching Service subscription. What a thrill it has been to learn how to tap into the abundant life our lord and savior made available and to manifest the Christ within.
Digital Subscriptions
Digital downloads come in MP3 (audio) and MP4 (video) files (in English only). You may order using our digital subscription order form or call the Bookstore. Subscribers can register on our web portal to receive their downloads.
All Countries
US$2.00 per week
CD Subscriptions
CDs are mailed to your address. You may order using our order form or call the Bookstore.
United States, Guam, Puerto Rico, Virgin Islands, APO, and FPO
US$3.50 per week
Canada and México
US$4.00 per week
All Others
US$4.50 per week
DVD Subscriptions
DVDs are mailed to your address. You may order using our order form or call the Bookstore.
United States, Guam, Puerto Rico, Virgin Islands, APO, and FPO
US$5.50 per week
Canada and México
US$6.00 per week
All Others
US$6.50 per week